The food industry is very dense, with consumers wanting everything from low-priced foods, to organic goods, to locally-sourced food. The options can be endless and some things aren't as easy to find, and markets are searching in an endless list of products to sell in stores.
This is where food brokers come in. If you provide them with a description of what kind of groups of people you're trying to reach, a food broker can find the right fit for your product and take it directly to the market.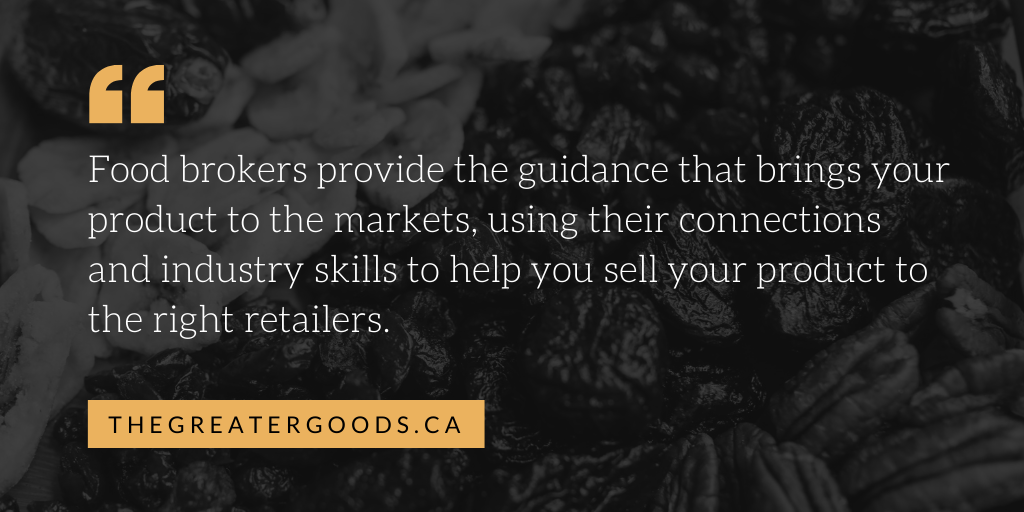 Food brokers provide the guidance that brings your product to the markets, using their connections and industry skills to help you sell your product to the right retailers. If you've just started production on your product or are struggling to find the right retailers to sell to, that's where a broker can come in and help.
Effective Communication
When bringing a food broker in to help your product, effectively communicating what it is you want is essential. They can make sure they give you the necessary tools and coaching to succeed.
The Alberta Agriculture Industry says that to best communicate with a food broker, make sure to talk about your needs:

"A productive relationship is based on communication and trust. Because your broker is putting your sales plan into effect, seek the broker's advice during the planning stages. Inform the broker about your product. Work with the broker to develop product information sheets to leave with the buyers."
Knowledge of the Food Industry
Food brokers have a handle of the food industry and what your product is most suited for. They're a great resource to get a good sense of what the market is like, especially for your product. For example, The Greater Goods specializes in chocolate, cocoa, dried fruits, nuts and nut butters, and can provide a lot of insight on what a product needs to get in the retail market based on our previous experience in the industry.
Our food brokers and food industry consultants have the experience and education necessary to have a full understanding of how the industry works. Here's just some of the skills food brokers can bring to your business, as outlined by Upserve:
"Create and maintain food safety procedures.
Assist with culinary development and menu design.
Assist with revenue generation, food costs and menu engineering.
Develop food production facilities and kitchens up to code.
Create products and dishes that are nutritionally viable and tasty."
Brokers provide that much-needed step in the door to contact retailers. They've dealt with lots of different businesses and companies and know how each one functions. It can be helpful to have a broker when you're looking for businesses on the retail market to sell to. They'll be able to reach as many people as possible, who will also fit your company's interests.
Quality Assurance
Bringing a business consultant in like a food broker will provide that extra step to quality assurance. Food brokers make sure packaging and ingredient costs remain as affordable as possible while still keeping the product at top quality. Our staff at The Greater Goods can also provide consultation in food supply and packaging to help get you set up with what you need to get your product to the retail market.
Seeing the Product from Beginning to End
It can be difficult to navigate the food market, but trusting food brokers to reach out to the right people can be that big leap from production to getting your product on shelves.
Brokers specialize in different processes of food production, from planning and concept to maintaining sales after-market release. Consider how long and for what stage of the production process you would need a food broker for.
If you're interested in learning more specifically to your business, you can book a consultation with us free of charge.