If you're just starting your small business or you're looking to expand to a bigger audience, it can be an uphill battle to get there. It can be beneficial to look for advice from a food consultant to get expert advice from a professional and find you those connections to take your business plan to the next level.
Get Expert Advice from Professionals
Food consultants have worked with a number of clients with varying degrees of business. From big to small, they know how food manufacturing operates and what it takes to succeed. Every business' definition of success is different and a food consultant can offer a wide array of knowledge and experience to give you the advice your company needs to expand their reach.
Rance Lab explains here how to best go about hiring a food consultant:

"The food, beverage and hospitality market is dotted with such service providers and experts. Ask your peers, colleagues, friends and family and then read the reviews online on the internet to get through the best one for your business. Hiring an individual food consultant or a food consultant company comes with the perk of modification and customization of business structure that draw a successful path."
Whether it be working on product ingredients, finding manufacturers and retailers that will work with you, or working to reach more consumers, seeking professional help fast-tracks where you want to go.
Second Opinions and a Web of Connections Can Go far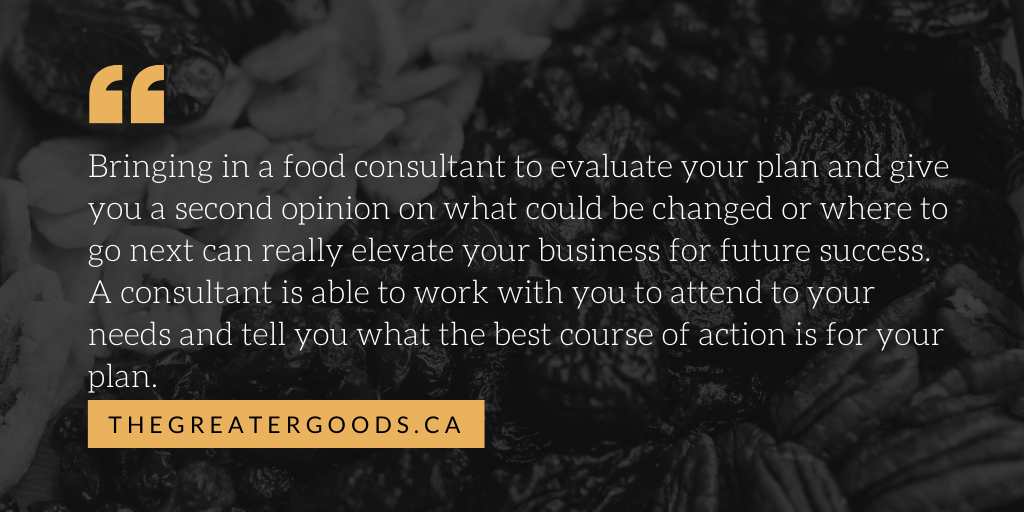 Let's say you already have a business plan in place and are ready to get started. Bringing in a food consultant to evaluate your plan and give you a second opinion on what could be changed or where to go next can really elevate your business for future success. A consultant is able to work with you to attend to your needs and tell you what the best course of action is for your plan.
The government of British Columbia further expands on the importance of having a team of people working with you:

"The early stages of business growth involve many different tasks and responsibilities. It is important to develop a team of knowledgeable and experienced people right away. Mentors, colleagues and industry leaders are an invaluable part of your network."
Also keep in mind that a consultant has plenty of connections and ways to reach other businesses that can help you out. If you're looking for the right manufacturer of certain ingredients and the right location to create your product, they can help you set up that first meeting with them.
Obtain More Credentials and Certifications with a Food Consultant
If you're manufacturing a new product, or if you're just starting to, a food consultant can come in and provide you with expert advice on how to obtain those credentials. They can help you find the right place to get your credentials and certifications done and even go through your business and see what you need to make sure your business passes the test.
For bringing your start-up to life and helping your staff get the coaching, training, and certifications they need, a consultant can help you take leaps forward and have a competitive edge early on. If you're looking for advice on how to get up and running, we offer a free consultation with our expert food industry consultants and food brokers.