Whether you're producing a new product or you're looking to have an assessment of your current food production, hiring a food consultant is beneficial for much-needed advice. Having a great idea for a new product is one thing, but the steps to getting it to market can be a tedious hassle.
That's where a food industry consultant steps in, working with your needs and matching you with the right companies, manufacturers, retails, and other businesses to bring you the best possible product.
For businesses who are currently making food products and either want to expand to work on something new, or need advice on where to improve, a food consultant can be brought on for business advice. They can take a look at the functionality of your business and even help coach your staff.
Finding Companies with Similar Interests Through a Vast Network
Consultants have a wide range of connections and can help you connect with people in the food industry who match your company's needs and ethics.
The Ontario Ministry of Agriculture, Food and Rural Affairs notes that "it's essential to find a partner that fits with your business objectives, as bigger is not always better, especially for smaller food firms. Selecting this partner requires careful consideration and homework."
We are a company based in Ontario but being a food business consultant has a wide reach. We recently secured a $1 million sales contract in Europe, and have experience selling to global markets by sourcing online and in-person.
Find the Right Consultant For You
When looking for the right food industry consultant to work with, it's often recommended to stay with a local company. We specialize in helping Ontario businesses, which brings the advantage of in-person meetings and site visits. Meeting in person and being there onsite strengthens the working relationship with your consultant and gives them a better understanding of your needs.
Keep in mind not only location, but what communication is like with the consultant. Being clear and listing specific deliverables effectively tells the consultant what you're looking for. The Alberta Agriculture Industry says to "work with your broker in the same way that you would a salesperson. Make the broker part of the planning and strategy as it will make them part of the team."
Food Certification & Quality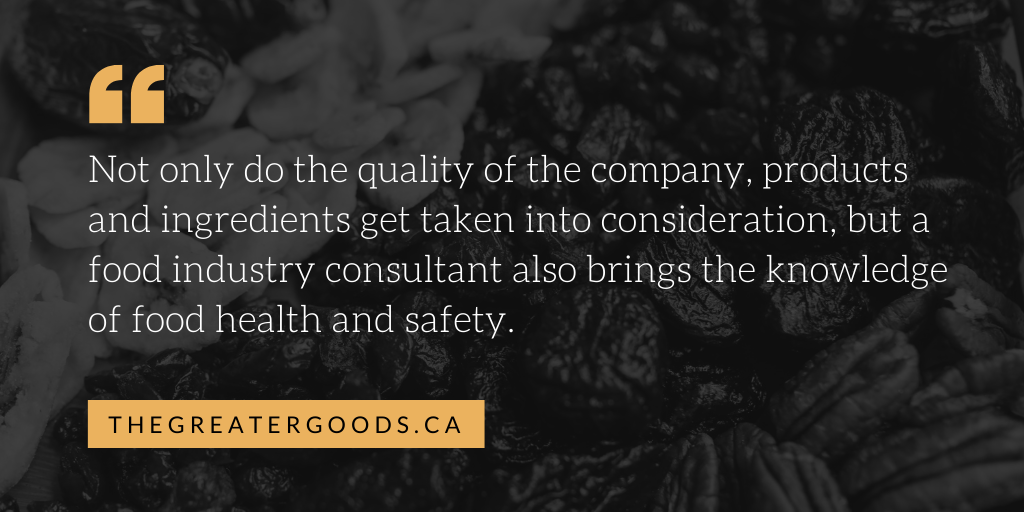 Not only do the quality of the company, products and ingredients get taken into consideration, but a food industry consultant also brings the knowledge of food health and safety. The many rules and regulations can be confusing, but a consultant has a good knowledge of the industry and keeps these in mind when looking for the right products.
At Greater Goods, we also specialize in organic and non-GMO ingredients and can help you achieve certification in those areas as well. We strive ourselves on finding a cost-effective way to manufacture products while still having the most high-quality ingredients possible.
Through one of our case studies, Luisella Chocolate Spread, we aided our client in finding the right ingredients, negotiating pricing with vendors, and seeing the product through to manufacturing.
Pre-Audits & Assessments
Getting your products certified before heading to market can be a jumble of rules and regulations to follow, and a consultant can help give support and guidance on what is required to pass food safety certification programs.
Performing pre-audits and risk assessments will assure a product is at its best quality for going to market. A consultant can walk staff through these procedures and provide any necessary coaching.
Bringing a food industry consultant takes you on the easy path to bringing your product to market or helping your business work more efficiently. The relationships you build not only with the consultant, but with the companies they connect you with, can help expand and integrate your business even more in the food industry.