If you've got your product out on the market and want to improve on it, or are at the beginning stages of getting started, it's a good idea to consider switching your ingredients over to organically-sourced ingredients.
This can be a game-changer not just for the quality of your product, but also the quality you're promising to retailers and consumers, and ultimately showing that your business is trustworthy in working hard to source these ingredients.
Health Benefits
While keeping a balanced diet that fits your needs is also vastly important, consumers also want to know where their food is coming from and many opt to choose organic food products for this reason.
The Organic Trade Association explains why going organic is becoming the more beneficial option:

"While proving health benefits of eating a particular food is a complex question to answer, evidence is mounting that there are some healthier nutritional profiles linked to consuming various organic products. For instance, a research article published in December 2013 in PLOS ONE found that organic whole milk contained significantly higher concentrations of heart-healthy omega-3 fatty acids compared to milk from cows raised on conventionally managed dairy farms."
The Organic Market is Growing and Bigger Than Ever
Luckily now, it's becoming easier to find organic ingredients thanks to the boom of the industry and connecting with manufacturers across the world. Whatever food you're looking for can be found pretty easily, especially with the help of other manufacturers and food brokers to facilitate deals.
Other people in the food industry are attending conferences, meetings, working with each other and have a huge list of connections that they can point you to, to find exactly what you're looking for. And that's only continuing to grow as organic food sales grow.
Ecovia Intelligence says food sales in Canada are getting bigger by the year:

"The Canadian market for organic foods is now worth Can $5 billion (USD 3.7 billion). According to Statistics Canada, retail sales have increased 57% over the past five years. Two in three Canadians (67%) now spend at least some of their weekly grocery budget on organic items, up from about 50% in 2014. The rise in organic food sales extends across multiple categories from fruits and vegetables to nuts and even desserts such as pies."
Finding Certified Organic Ingredients Can Be Easy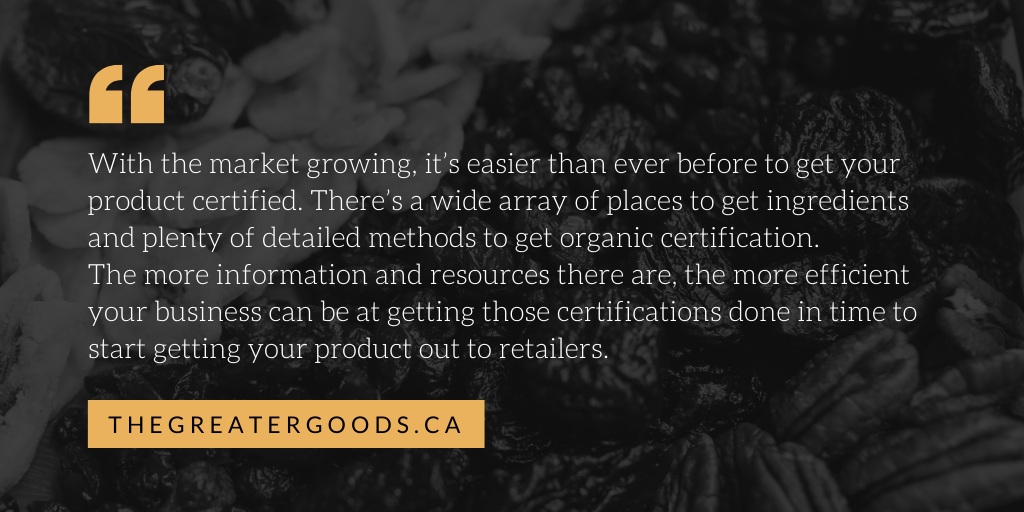 With the market growing, it's easier than ever before to get your product certified. There's a wide array of places to get ingredients and plenty of detailed methods to get organic certification. The more information and resources there are, the more efficient your business can be at getting those certifications done in time to start getting your product out to retailers.
The Organic Council of Ontario highlights more on organic certification:

"It takes a producer up to three years to transition to the production and sale of certified organic products. During the transition phase, products can still be sold, but not as certified organic. If producers can prove that no prohibited substances have been used on the property in the last three years, it can take a minimum of 15 months to achieve certification."
At the end of the day, finding organic ingredients that are healthy and cost-effective are just as important to us as they are to you. We specialize in working with organic, non-GMO and vegan ingredients and have industry experience working with these products.
We offer free consultation where we can outline what it is we can do for your business. It's the communication with clients and the one-on-one consulting that helps a food broker find the right ingredients for you and where to source them.