If you're creating a new food product with nuts as a main ingredient, it's important that you're getting the right nuts that'll work with your product. This food has a huge flavor profile and needs several things to be considered, like where it's grown, textures, flavours and what kind of tree nut it comes from.
Finding the right supplier can be tricky, especially for foods that have tons of suppliers, like almonds, peanuts, hazelnuts, and cashews. Here are some easy tips to follow to find the right nut supplier for your food product.
Reach Out to Local Companies
You may not know it yet, but there could be suppliers of nuts in your surrounding area. This is where networking can really come in handy. Reaching out to food companies that you know and asking them who their suppliers are is a great start. They may be able to connect you with where to look for bulk nut suppliers in your area.
If you know of some food suppliers already, reach out to them to ask what their prices are and what types of nuts they offer. Bulk buying can offer big discounts, plus, you'll be able to support another business in your local community. Here's what Agriculture and Agri-Food Canada says about why Canadian-sourced food is great: 
"Canada's agriculture and food industry is complemented by a robust research infrastructure, bringing innovation to all areas of production. Canada boasts leading technology, cutting-edge innovation, and some of the world's most advanced production, processing, storage, and packaging techniques."
Find Suppliers at Tradeshows or Online
If you don't know any bulk nut suppliers in your city or county, you may be able to network with some in your country or on an international scale. Going to food tradeshows is a big part of this.
At tradeshows, people from every aspect of the food industry meet and establish business connections. You may be able to find the right supplier for you if you visit their booths, connect during one-on-one sessions, or ask other industry experts who you should look for.
As well, you can find a bulk nut supplier in a similar way online. Use LinkedIn or your local social networking sites to connect with industry professionals and chat casually online.
Gregory Go at The Balance Small Business provides these tips on networking with suppliers online:

"Invest time in networking to build the trust and connections that will help you find the best possible wholesale suppliers for your small business. Participate in online forums which can be a great source of free information and help from other people with experience in your market or industry. You can also build your LinkedIn profile, subscribe to industry newsletters, and join your local Chamber of Commerce or small business networking groups to build your professional connections."
Seek the advice of a Food Consultant
It might be harder than it seems to develop the right business connections when it comes down to finding a nut product. This is where a food consultant or food broker can come in handy.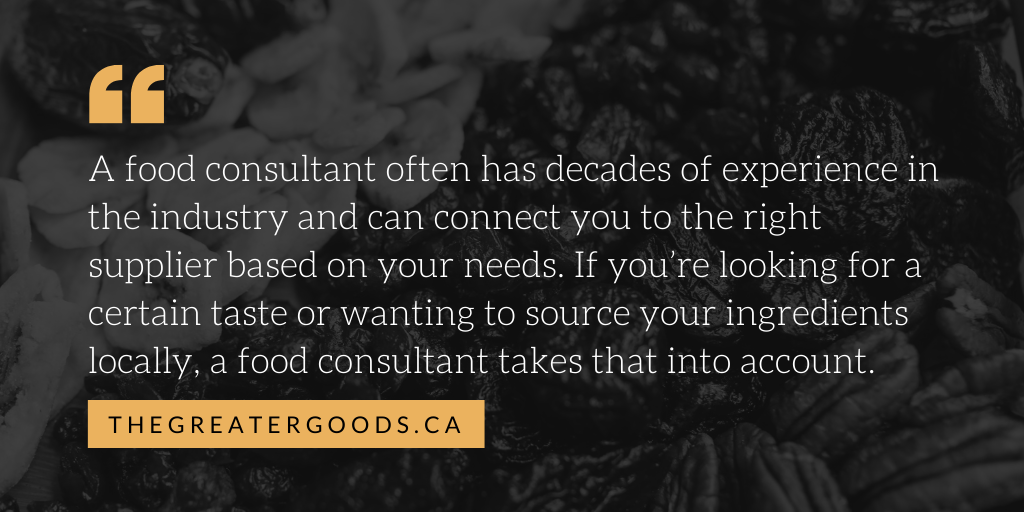 A food consultant often has decades of experience in the industry and can connect you to the right supplier based on your needs. If you're looking for a certain taste or wanting to source your ingredients locally, a food consultant takes that into account.
Here is our company promise to you:
With over 20 years of experience, we know how to help businesses like yours get the products that will help you succeed. We know it can be difficult to find quality products that meet your expectations and certification requirements. It gets even harder when you are trying to meet a certain price point and want to stock something unusual. No matter what your struggle is, we can help you find the bulk nuts wholesale suppliers you need.
 At The Greater Goods, we specialize in organic food like nuts, nut butters, dried fruits, cocoa, and chocolate. Reach out to our team for a free consultation with our expert food industry consultants and food brokers.