As a food business consultant, we have observed that one of the main struggles business owners in the food industry encounter is the high cost of packaging for food products. This gets even more challenging where the laws are extremely strict on the quality and type of food packaging materials that food companies are required to meet. Since such processed foods are meant for human consumption, the company has to ensure it uses high-quality packaging that not only ensures the safety of food for human consumption but also ensures that the food products remain in an edible state for the longest time possible.
As such, it is important to take your time to find the best food product packaging solutions that will ensure your food products remain safe for human use for a long time and still adhere to the local laws on packaging dynamics. Let's see some of the main steps you can take to cut back on food products packaging costs.
Buy Packaging Products in Bulk
For most products on the market, buying in small quantities comes at a higher price point than when you buy the same products in large quantities. This is true of food product packaging materials.
When you are buying the packaging items from a packaging company that is not affiliated to you in any way, it is important to buy the materials in bulk, say, enough of them to last at least three months before your next order. This will help you cut back on the cost in two ways. One, when you buy in bulk, the company has already set its pricing relatively lower compared to lower quantities of the same product. Secondly, you spend less money transporting the products to your premises if the company does not offer delivery options for orders at the level of your purchase.
Betterpackages.com observes that buying packaging products in bulk helps you cut back on the cost of the products and shipping:

"If you are tasked with ensuring that your packaging and shipping operations run smoothly and without interruption, it is critical that you keep your team supplied with the materials they need to be productive. It's also important to do what you can to control shipping-related costs. Buying shipping supplies in bulk can help you achieve both your operational and financial costs. If you wait until there is an urgent need to replenish your supplies, you are likely to make the smaller purchase that you are familiar with, and you will miss out on the benefits of buying in bulk."
Ditch Customized Packaging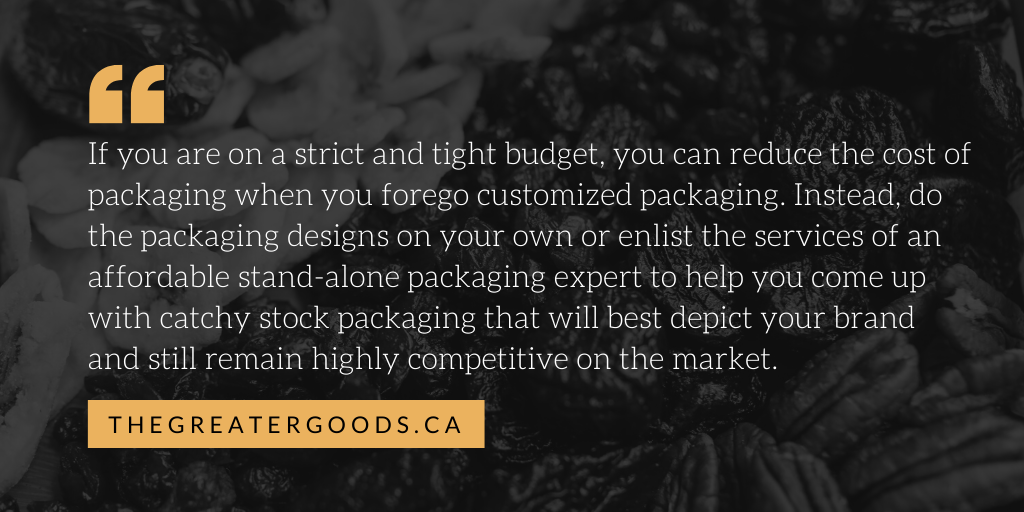 If you are on a strict and tight budget, you can reduce the cost of packaging when you forego customized packaging. Instead, do the packaging designs on your own or enlist the services of an affordable stand-alone packaging expert to help you come up with catchy stock packaging that will best depict your brand and still remain highly competitive on the market.
The Greater Goods recognizes and approves the need to forego customized packaging when you are short on finances:

"If you are on a tight budget, use stock packaging rather than customized packaging. Hire a professional graphic designer to design a label that speaks to your brand identity and makes your food packaging look as appealing as possible."
Hire a Food Packaging Consultant
If you have a healthy budget in place and money is among the least of your worries, hiring a professional food packaging consultant will keep the cost of packaging materials at a lower price point. Firstly, they will offer advice on and help you land the best packaging deals within your region of operation or beyond. Secondly, they will update you on packaging trends so that you can go for newer packaging solutions that are often more cost-friendly than the older ones. If you don't have an in-house team to fully manage the packaging process, you can outsource it in its entirety.
Entreprenuershipinabox.com notes that outsourcing is helpful in cutting down packaging costs:

"Outsourcing is a practice in which one business hires the services or products of another company to reduce its operational, production, and business costs. It is always best to outsource non-core business activities, such as supply-chain management, logistics, and packaging."
If you would love to learn more on how to lower your food product packaging costs from a renowned food industry constant, reach out to us at The Greater Goods for a free consultation.