It's almost the new year, and a lot of us are glad 2020 is almost out of the way. With a new year comes a new market, and new products on sale. The food market is changing and growing as consumers change their buying habits.
With people sticking to an affordable, vegan, organic, and non-meat products in the new year, it's a good year to potentially release a new product on the market. Here's a look at the top food product trends for 2021.
Vegan Chocolate
Chocolate is not only a great dessert, it can also be a healthy snack if the ingredients are organic and well-sourced. Chocolate with vegan ingredients (meaning non-dairy based chocolate products) are on the rise and are expected to be trending in the year to come.
Coco Chocolatier points out that dark chocolate actually touts some health benefits:

"Research shows that dark chocolate contains a number of natural compounds that carry a variety of health benefits. This is particularly true in the case of vegan chocolate, as it is directly obtained from cacao – often referred to as a 'superfood'. Recent studies suggest that the positive effects of cacao on the human body can be attributed to the high amount of healthy nutrients it contains – particularly flavonoids, as they have great antioxidant effects."
Plant-based Proteins
With more consumers looking for meat alternatives, plant-based proteins are seeing bigger sales every year. Expect to see food products like tempeh, tofu, imitation beef, and other vegan-friendly proteins.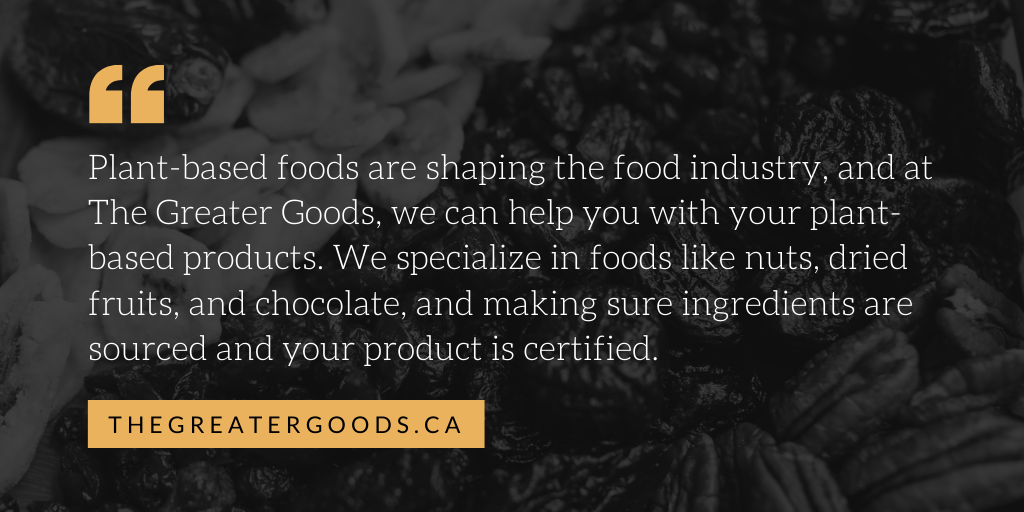 Plant-based foods are shaping the food industry, and at The Greater Goods, we can help you with your plant-based products. We specialize in foods like nuts, dried fruits, and chocolate, and making sure ingredients are sourced and your product is certified.
Food trends forecaster Elizabeth Moskow predicts that consumers will find a balance between eating meat and plant-based proteins:

"'A trend in and of itself is that going forward in the next couple of years people are going to start coming to their senses and realize the answer is in the middle,' Ms. Moskow said. 'None of the products on either end is sustainable or something you can eat every day. Companies developing products that are once-in-a-while foods doesn't make sense.'"
Mocktails
It's always the right time for a fun, custom mocktail. This is an all-ages friendly food product that can be sold at any beverage retailer. Mocktails are on the rise as people want the fun cocktail experience at home, and a mocktail mix can have alcohol added into it. There's also the opportunity for a more shelf-stable beverage option like powdered mocktail mix.
Food expert Liz Moskow predicts non-alcoholic beverages like mocktails will be on trend in the near future:

"Clean living feels great, sometimes, but for the average American adult, imbibing with an alcoholic beverage often equates to being social and therefore isn't going away anytime soon. Rather than choosing to regularly enjoy a boozy milkshake, or a Japanese whisky highball, or abstaining altogether, beverage that employ a light and refreshing approach with lower ABV options will better appease the base."
How to Browse for the Upcoming Trends
If you're trying to find out what new and upcoming food products will be trending in the year to come, check out Google Trends for this. Using their user search data, Google has compiled everything that's trending, and all you have to do is search for specifics.
Searching for trends can take a bit of sleuthing skills, but focus on what you know you'd like to sell. For example, searching for "premium chocolate products" might turn out a more specific result. Or, just looking up "trending food products" can work if you're just doing a general search.
At The Greater Goods, we specialize in organic food like nuts, nut butters, dried fruits, cocoa and chocolate. Feel free to contact us for a free consultation with our expert food industry consultants and food brokers.