If you're a small business and you've sold a food product on the market before, you've probably wondered how you can sell your product wholesale.
Wholesale lets you sell your products in bulk to a retailer, who can then sell it directly to customers. Often, wholesale allows your product to become available to more than just your target consumers and be distributed to a larger market, even internationally.
Chocolate products can be sold wholesale to retailers. It just takes a keen eye and your finger on the pulse of the food industry to determine how to effectively turn your product into a wholesale product. Here are some tips on how to get started.
Sell Your Product Online
If you've tried approaching local retailers in your area on wholesale but they have declined, consider selling your product online. You can set up your own website and offer wholesale, but this requires a lot of networking to get your product out there.
If you want more people seeing your chocolate product, reach out to online chocolate product retailers. Find their contacts through their website or on social media platforms like LinkedIn, and ask them what their wholesale market is like. They may want your product for their website and this way, you'll be able to reach a huge audience.
Entrepreneur Magazine highlights the growth of wholesale distribution in America:

"Upon opening the doors of your wholesale distribution business, you will certainly find yourself in good company. To date, there are approximately 300,000 distributors in the United States, representing $3.2 trillion in annual revenues. Wholesale distribution contributes 7 percent to the value of the nation's private industry GDP, and most distribution channels are still highly fragmented and comprise many small, privately held companies."
Create a Steady Production Schedule
Acquiring a wholesale deal is one thing, but keeping up with product demands is another. So, when you've made the sale and have retailers to send your chocolate food products to, plan out when and how you'll be getting this all done.
For example, if you have three different retailers you're delivering products to by the end of the month, plan out how long each step of the production process will take. The more detailed your schedule is, the better you'll be able to plan for any setbacks or delays.
Michael Adams at The Balance Small Business notes that your delivery schedule should be consolidated as well:

"Doing deliveries every day throws off your schedule. That's why you should consolidate your deliveries on certain days of the week. Maybe one county is Mondays and the next county over gets deliveries on Fridays. That leaves the middle of the week for producing product, doing office admin work, and calling on new retailers. Why don't you consider drawing a route out that helps you get all your deliveries done faster?"
Create a Wide Network of Distributors
If you have multiple retailers to send products to, it may be hard to keep up with demand. Creating a wide network of distributors makes sure that no one is stretched too thin.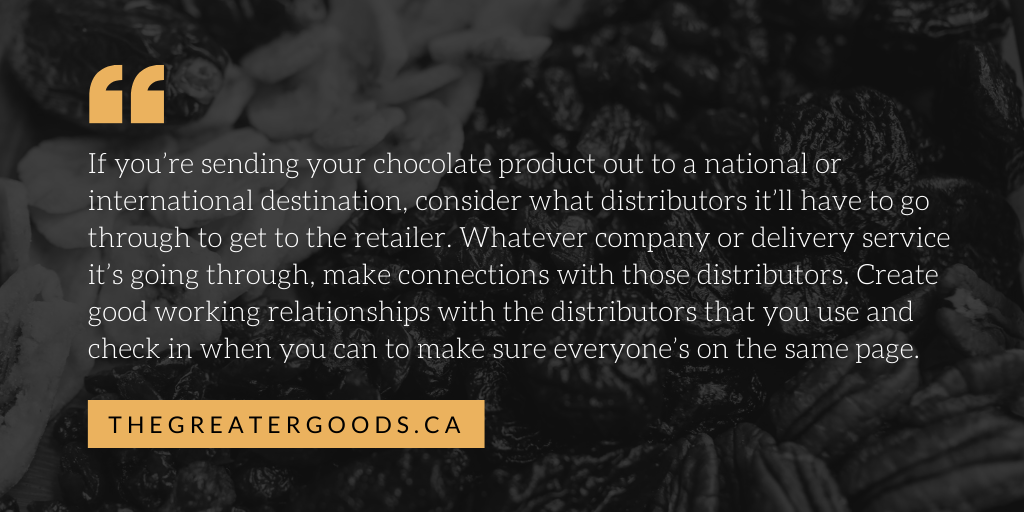 If you're sending your chocolate product out to a national or international destination, consider what distributors it'll have to go through to get to the retailer. Whatever company or delivery service it's going through, make connections with those distributors. Create good working relationships with the distributors that you use and check in when you can to make sure everyone's on the same page.
The Houston Chronicle says that determining your target market is also key in building your business profile:

"Profile the target market for your food products. Doing so will help you figure out exactly who is most likely to buy your products and which retailers are best to work with. For instance, if you produce gourmet seasoning salts, your target consumer would be someone who is into fine dining and has the disposable income to splurge on luxury ingredients. Therefore, you should try to get accounts with high-end retailers, as opposed to discount grocery chains."
At The Greater Goods, we specialize in organic food like nuts, nut butters, dried fruits, cocoa and chocolate. Feel free to contact us for a free consultation with our expert food industry consultants and food brokers.