Running a food production business or a store isn't easy. Even if the demand for your product is there, finding the time to create and manufacture your own products, while working on branding and running a business can be next to impossible without hiring outside help. Plus, without outside help to assist you in making the leap from small scale production to full-scale manufacturing, you'll never be able to get your product on supermarket shelves. Having said this, it can be difficult to find quality co-packers, with many of these companies looking to make as much money as possible – even in the form of hidden fees. We're going to take a look at what to consider when looking for a co-packer, so you can properly plan for your transition and avoid any unnecessary fees.
Manufacturer's Scope of Services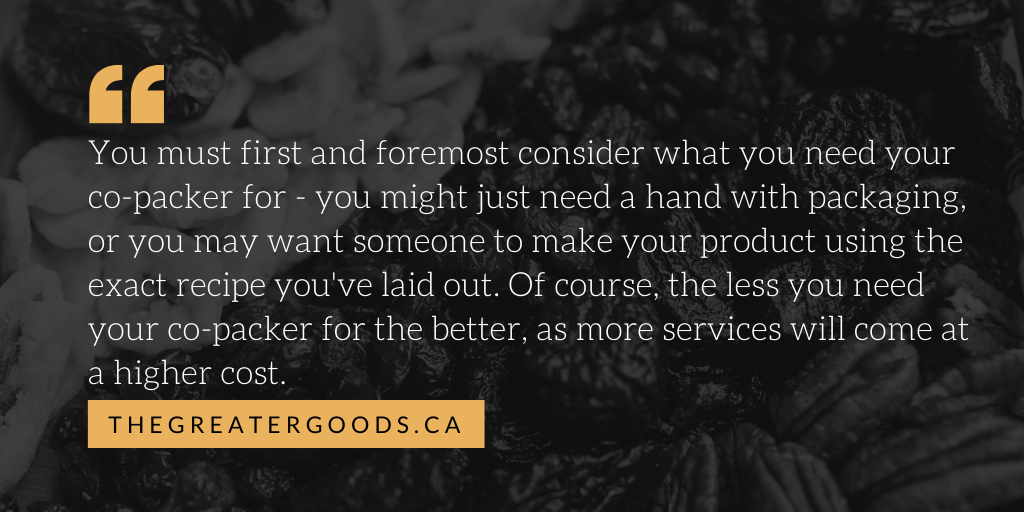 You must first and foremost consider what you need your co-packer for – you might just need a hand with packaging, or you may want someone to make your product using the exact recipe you've laid out. Of course, the less you need your co-packer for the better, as more services will come at a higher cost.
Stemmlers tells us why you need to consider the manufacturers scope of services when it comes to calculating your co-packing costs:

"That's the beauty of co-packing: flexibility. Co-packing encompasses a wide range of services. A co-packer can manufacture your product outright from start to finish (from sourcing your ingredients and packaging materials to processing and preparing the product to be shipped), or take certain time consuming processes off your hands. Of course, outsourcing your entire process to a co-packer will come at a greater cost than prepping, processing or packaging only. But don't neglect to consider the hours you'll gain back once manufacturing is off your plate! Instead of labouring in a small kitchen, you can focus on marketing your product to the people who crave it."
Utilizing Experts For Product Improvement
Utilizing experts can be a fantastic way to add more credibility to your product, in a large variety of areas. However, this can of course add a significant extra cost to your co-packing fees. Luckily, there are options available if you'd like the additional expert help, without paying an arm and a leg for it.
Chris Bekermeier of Pacmoore.com explains why hiring experts can be a great but costly investment for your food company:

"There are many different places to find food scientists and other product development experts who will help you improve your products. One alternative is to leverage food science departments within our countries' top universities. The Purdue University Food Science Department is one example. They have experts in many areas. They can help with process design, PH analysis, sensory panels, scaling, micro, and more. Even though there is a cost to cover expenses and development of all the different resources, it's relatively inexpensive to go through a university compared to a commercial enterprise."
Tap Co-Packer Knowledge
If you find the right co-packing company, chances are, they will want to help you save money. Developing a great relationship with their prospective clients should be at the top of the list of any great co-packer, and they will guide you towards how to keep your costs down, while still utilizing their services.
Jean Thilmany of Packaging World tells us why you should not be shy when it comes to simply talking to your co-packer about cutting costs:

"A contract packager can also suggest cost-cutting ideas. Arrange at least one formal meeting with your packer to review packaging specifications in detail. In addition, advises Dwight Sevaldson, contract operations manager at General Mills, be sure all the packaging players attend the summit, including material suppliers and any maker of special equipment that the contract packager uses. At these meetings, ask co-packers to share their experiences about similar packaging jobs and to introduce cost-cutting tips based on that experience. Co-packers want to help because they seek repeat business and a close client relationship."
Here at The Greater Goods, we offer consultation services for your business, from food production to distribution. If you're looking for advice on how to get up and running, we offer a free consultation with our expert food industry consultants and food brokers.