When choosing to take on a co-packer, you will quickly find that this is one of the most important business relationships you have, and is key to your brand's growth. And while a great food co-packer can make your food business a success, a bad food co-packer can ultimately break you. This is why it's incredibly important to do your due diligence when researching potential co-packers, as well as making sure that your business is ready for a co-packing relationship in the first place. In this article, we take a look at the biggest mistakes to avoid when taking on a food co-packer, so you can avoid these common pitfalls.
Mistake #1: Engaging a Food Co-Packer Too Soon
Unfortunately, this first crucial mistake may be entirely on you, and that's engaging a food co-packer too soon. If you are just beginning your food business and are unsure of volumes, it may be incredibly difficult to maintain a good relationship with a co-packer and will make keeping up your end of the contract impossible.
Brandon Mackie, co-founder of innovative snack-maker Keto Farms tells us more about hiring a food co-packer too soon on Amped Kitchens:

"We tried co-packing too early," Mackie admits – crucially, he explains, before Keto Farms had dialed in its product and process and hit a stabilized order flow. "The first co-manufacturer we found was too small and didn't give us the focus we were hoping for. The second one was too big, and their sales team made promises that ultimately weren't kept because volumes were too low."
Mistake #2: Choosing A Co-Packer Exclusively On Price
When you're first starting out, price is often a crucial factor in deciding whether you can afford this extra help. However, choosing a co-packer exclusively on price will more than likely be your downfall.
IndustrialPackaging.com explains why the cheapest option is not always the best option when it comes to your co-packing needs:

"When basing your decision exclusively on price alone, you open yourself up to a set of potential problems. You may find a co-packer with the lowest cost of doing business, but, they may not be specialized for your products and may not be able to deliver your packaging needs to the level you expect or require. While the cost of a contract packaging program is crucial, it is not the most important dynamic. At the end of the day, you will want to choose the co-packer who has a defined specialty in packaging all of your products. The cheapest option may not meet this criteria."
Mistake #3: Not Checking the Manufacturer's Certifications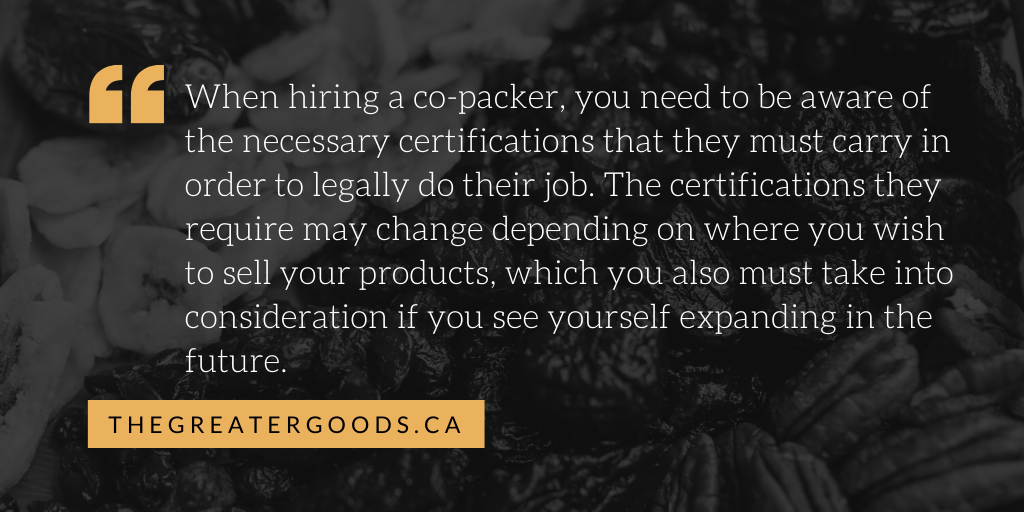 When hiring a co-packer, you need to be aware of the necessary certifications that they must carry in order to legally do their job. The certifications they require may change depending on where you wish to sell your products, which you also must take into consideration if you see yourself expanding in the future.
PartnerSlate tells us more on why checking the manufacturer's certifications is an absolute must:

"It's super important from day one to make sure that your co-packer is following strict quality standards. That doesn't mean they necessarily have to be SQF Level II from the start, but make sure at the very least they are third party audited by The Department of Agriculture. Then if you know that you'll eventually want to move into Walmart or Costco, look into what they require and start the discussion with your co-packer to see if you can work together on getting them there. If not, then you know it's time to start looking for another option."
Here at The Greater Goods, we offer consultation services for your business, from food production to distribution. If you're looking for advice on how to get up and running, we offer a free consultation with our expert food industry consultants and food brokers.