There are a ton of good reasons to buy food from the bulk aisle. Not only does purchasing from the bulk aisle reduce packaging waste and allow you to buy exactly the amount that you want, but it can save you a ton of money – if you know what foods to buy. Yes, it is true that not every food in the bulk aisle will save you money. In this article, we take a look at the best ingredients to buy in bulk, as well as letting you know which ingredients you should skip.
Dried Beans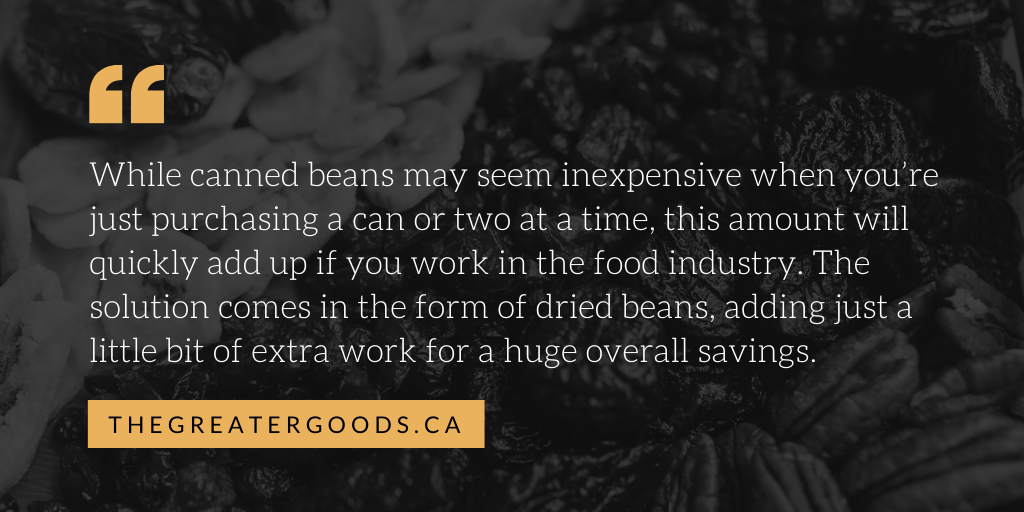 While canned beans may seem inexpensive when you're just purchasing a can or two at a time, this amount will quickly add up if you work in the food industry. The solution comes in the form of dried beans, adding just a little bit of extra work for a huge overall savings.
Food52.com tells us more on why dry beans are one of their favorite ingredients to buy in bulk:

"We're about to get real thrifty—ready? Already inexpensive canned beans are more expensive than dried ones. And bagged dried ones are more expensive than bulk ones. So basically, bulk dried beans should win you a money-saving award (imagine if it was a cash prize!). If your bulk aisle is worth its salt, it will have a variety of dried beans. At this store, kidney beans were $2.79/pound in bulk and $2.99 on the shelf for 1 pound. Black beans were the same shelf price and $1.99/pound in bulk."
Frozen Berries
We all know how expensive fresh berries can get – especially when they're out of season. Out of season berries not only carry a hefty price tag, but they also tend to be less flavorful. This is why hitting the bulk food aisle for frozen berries is a better and cheaper option overall.
Healthline explains why you should consider buying your berries frozen and in bulk:

"Though delicious and nutritious, fresh berries can be expensive and highly perishable. Thankfully, frozen berries are similar in nutritional value to fresh berries and can be purchased in bulk at lower prices. Harvesting then quickly freezing berries prolongs shelf life and maintains the nutritional content of fresh berries. According to the USDA, frozen fruit like berries can be safely stored in the freezer for up to six months. Adding berries to your diet can benefit health in many ways, including lowering your risk of heart disease, certain cancers, diabetes and mental decline."
Brown Rice
Arguably everyone's favorite staple, rice is one of the best items to purchase in bulk. Brown rice will allow you to fully get your money's worth no matter how much you buy, as it will keep for years on the shelf without expiring. And while brown rice may not be everyone's cup of tea, it does provide more nutrients than most other types of rice.
EatThis.com tells us more on why brown rice is one of the best foods out there for buying in bulk:

"This healthy staple has a much better nutritional profile than its white counterpart, and it keeps almost indefinitely on the shelf. And there's several reasons it's such a go-to among healthy eaters and dieters: it's loaded with B vitamins, a natural source of long-lasting energy; it boasts essential micronutrients like manganese, phosphorous, selenium and magnesium; and packs plenty of fiber, which can keep your blood sugar in check and cravings for junk food at bay."
Which Foods Should I Not Buy in Bulk?
While bulk shopping can be an excellent way to cut down on costs and fill your pantry or fridge, it can also end up costing you money. Certain foods will expire long before you get a chance to use them all, with many unable to be frozen to preserve their life. And unless you're using the following ingredients on a daily basis, you may wish to skip the bulk aisle for these purchases:
Nuts
Coconut oil
Fresh fruits and vegetables
Eggs
Flour
Prepared foods
Here at The Greater Goods, we offer consultation services for your business, from food production to distribution. If you're looking for advice on how to get up and running, we offer a free consultation with our expert food industry consultants and food brokers.