It's been nearly 17 years since subscription boxes started taking off, and odds are, you've signed up for one yourself. In particular, food subscription boxes have made a huge splash in this market and makeup nearly a quarter of all subscription boxes. While this does make the food subscription market more competitive, it also makes for an incredibly lucrative opportunity for those already involved in or looking to become a part of the food industry. In this article, we take a look at how to start a food subscription service, so you can make your product stand out above the rest.
Consider What You Can Afford
Now that you've decided to start a food subscription service, it's important to take into consideration what you can afford. You may wonder how other businesses are able to offer their products at such affordable prices, while still turning a profit themselves. It's important to stay realistic with what you can offer now, while still making money yourself. 
Pod Foods tells us more about why it's important to stick within a budget when considering starting a food subscription service:

"Subscription boxes aren't for every business. Some boxes contain sample-size packs of products, but others include full-sized products, which means an upfront investment either way. But if it is within your budget, subscription boxes can be a great way to convert users into buyers."
Pick a Theme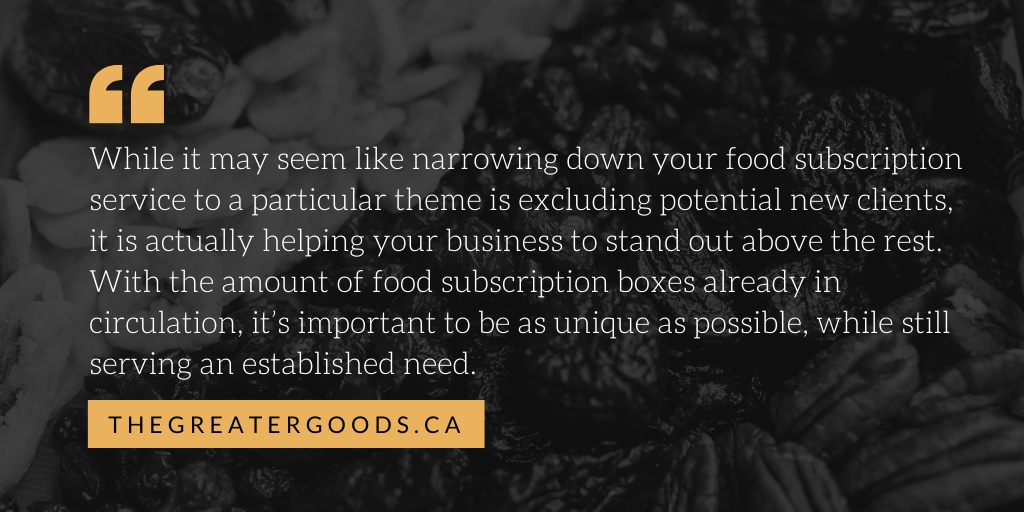 While it may seem like narrowing down your food subscription service to a particular theme is excluding potential new clients, it is actually helping your business to stand out above the rest. With the amount of food subscription boxes already in circulation, it's important to be as unique as possible, while still serving an established need.
That Clean Life explains why picking a theme and sticking to it could be what makes your food subscription business successful:

"It's important to set some criteria for your plans so that subscribers will know what they are signing up for and what they can expect the plans to deliver. People can get general meal plans anywhere. So you need to create and offer something unique. Instead of creating generic plans, try to be as specific as possible. Who is this subscription service going to help? Creating specialized meal plans will allow you to charge more and not compete with low-priced, generic meal planning services. The theme should be related to your niche and the most common issue your clients see you for."
Use Brand Ambassadors
The use of brand ambassadors is a great way to promote your food subscription service and has been one of the most tried and true marketing techniques in recent years. By sharing your box with trusted and well-known personalities within your community, you can potentially reach thousands of new customers who are willing to take their word for it.
Ad Espresso tells us more about why hiring brand ambassadors is a fantastic marketing move:

"Online shoppers can't taste the food in your subscription box before they buy it—they can only see it on their screen. To get them to take the leap and purchase some food they've never tried before, build their trust with brand ambassadors. Having celebrities or influencers promote your product builds shoppers' trust in your brand. Potential customers see people they admire enjoying your product, and it makes them want to try your food subscription box for themselves. This is the phenomenon of social proof. If you don't have connections to any celebrities or influencers yet, you can use Facebook's Brand Collabs Manager as a starting point."
Here at The Greater Goods, we offer consultation services for your business, from food production to distribution. If you're looking for advice on how to get up and running, we offer a free consultation with our expert food industry consultants and food brokers.