Starting a food business from home has the potential to be the perfect solution for some. No extra costs to rent a space outside of your home plus the ability to work from home can seem like a dream come true to someone just entering the food business. And while starting a food business from home can be a smart decision for some, there are many factors that go into selling food that you've prepared inside your own residence. In this article, we take at what you need to consider when starting a food business from home.
Learn the Regulations and Requirements For Your State and County
You will still be required to learn the regulations and requirements for your state and county when preparing and selling food for others to consume. There are specific regulations set in place for manufacturing food in a private residence, just as there are specific regulations for those operating in a commercial facility.
FDA.gov explains more on the laws surrounding manufacturing, processing, and packing food inside your home:

"A private residence must meet customary expectations for a private home and does not otherwise include commercial facilities in which a person also happens to reside. Thus, a private residence (domestic or foreign) that meets customary expectations for a private residence that is also used to manufacture, process, pack, or hold food need not be registered. Be sure to carefully review the regulations to understand how they apply to your unique set of circumstances."
Conduct Market Research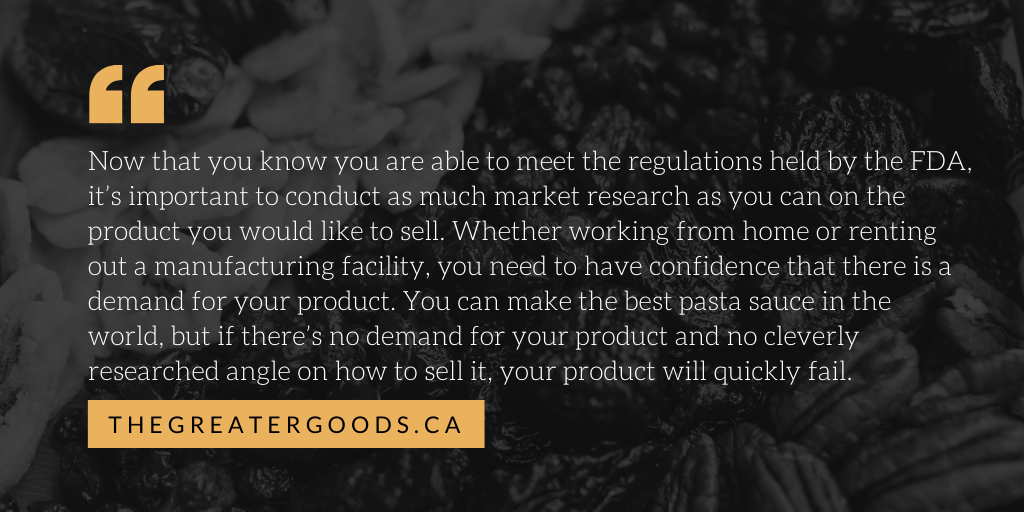 Now that you know you are able to meet the regulations held by the FDA, it's important to conduct as much market research as you can on the product you would like to sell. Whether working from home or renting out a manufacturing facility, you need to have confidence that there is a demand for your product. You can make the best pasta sauce in the world, but if there's no demand for your product and no cleverly researched angle on how to sell it, your product will quickly fail.
The Small Business Chron tells us about the importance of extensive market research when it comes to the food industry:

"It is very important that you do your research before starting your at home food business as the food industry is very competitive. Go to business networking events such as those run by the Small Business Development Centers, SCORE, and your local Chambers of Commerce. This gives you a great opportunity to pick the brains of local business people in the food industry and see what works and what doesn't. Clippy McKenna, founder of Clippy's, a maker of food condiments, says that if you can't perform more comprehensive market research, use your friends and the people you know to test your food recipes on. Every bit of feedback you can get is helpful."
Hire Professionals When Needed
When it comes to the point where you're selling more product than you can make without pulling your hair out, it's time to consider bringing in professionals. This may be when you start to consider co-packers, or renting out a facility and hiring some of your very own employees.
American Express explains why hiring professionals may be the right move for your business:

"While you may have designed a website for your homeowners association or taken a class in college on accounting, carefully consider hiring professionals for tasks that are outside of your realm of expertise. Although you could do these tasks, your time can often be better spent growing the business, and the result is usually of higher quality by bringing in professionals."
Here at The Greater Goods, we offer consultation services for your business, from food production to distribution. If you're looking for advice on how to get up and running, we offer a free consultation with our expert food industry consultants and food brokers.