If you're looking to use your food product to put more good out into the world, there are easy ways to do it. A great place to start is reaching out to your community and finding ways to help.
This is actually easier than it looks, and you can involve plenty of people and resources in your community at both production and distribution of your food product. Let's look at some of the ways that you can help your community with your food product.

Source Ingredients Locally
Sourcing ingredients locally is a direct way to support the agriculture and manufacturing in your area. Not only is sourcing local more eco-friendly, but the local economy benefits from it and it can keep small businesses afloat.
Before you start production on your product, assess what it is you might be able to source from a local manufacturer. Look at ingredients, packaging, and even product design. These could all be facets of your product that you can get from your community.

QSR magazine's Sam Oches points out that local is one of the most common facets of food that consumers look for:

"Local ingredients, most believe, are an agreeable middle ground for consumers, who can still get affordable food with a back-story that makes them feel good. 'Consumers want to connect with their food,' says Barbara Haumann, senior science writer and editor for the Organic Trade Association. 'They want to hear the story behind their food.'"
Distribute Locally
Distributing your product in your local city or county is a great and easy way to get involved in your community. Approach local shops and ask if they'll carry your product or buy it wholesale. This can help you form a lot of great relationships in your community and reach more people and new customers.
This could be as easy as selling at local farmer's markets. Part of setting up a booth at a farmer's market is for your business to directly sell your product to customers, but another part of it is the fees you pay towards the farmer's market. These fees actually go to directly help and support the community.
Localism explains more on the importance of buying locally-sourced goods:

"Buying local benefits everyone in our communities, and it's time to seize this golden opportunity to integrate the old ways of yesterday with the present, to improve our communities and the overall global society in a positive and more self-reliant way. By making conscious decisions to support local merchants, food growers and service providers, we are embracing our local economies and empowering our cities, our neighbors and our selves to grow and thrive."
Work with Local Charities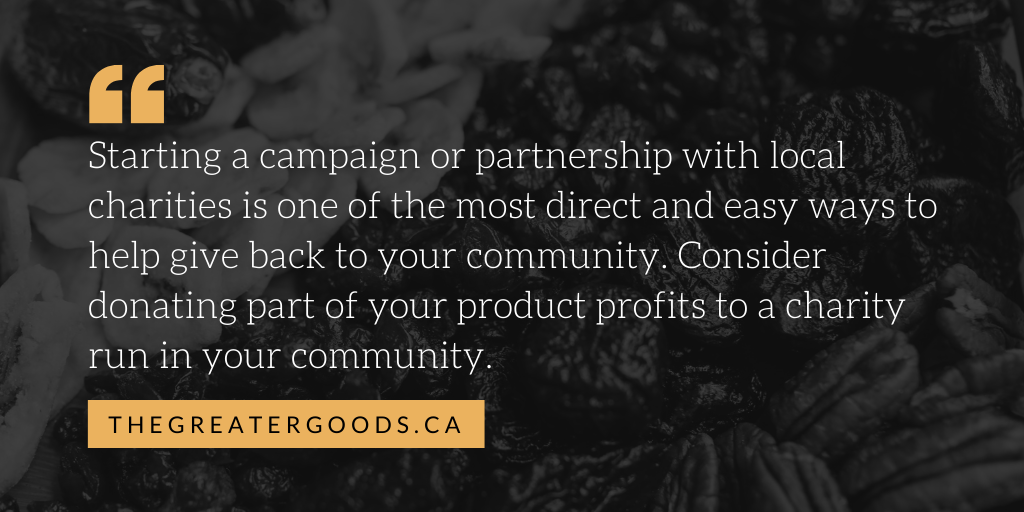 Starting a campaign or partnership with local charities is one of the most direct and easy ways to help give back to your community. Consider donating part of your product profits to a charity run in your community.
Lots of food companies choose to give back to charities that are relevant to your company. Consider what your company's motto is and what it stands for.
Molly St Louis at Inc highlights why businesses should donate to local charities:

"Charitable contributions have numerous benefits, but the most important one is obvious: you should give back to your community. Charitable donations help better your community, and the public will notice if a company is making a real effort to improve its surroundings."
For more advice on how to source ingredients locally, like dried fruit, nuts and organic chocolate, we offer a free consultation with our expert food industry consultants and food brokers.