If you've got a new food product, you know the process of just getting it developed was a lifetime of work. From sourcing ingredients, to finding a manufacturer, to packaging and delivery, it can be a process that possibly takes years.
If you've got your product all figured out, the last step might be one of the toughest ones yet: finding a distributor to take your product to market. Sure, you may have been distributing your product on your own to local shops and online. But to reach a greater consumer base, the best way to do this is through a distributor. Here are some tips on how to find a distributor that will work with you.
M Source Ideas explains what a food distributor can do for your food product:

"Distributors supply both aspects of the food industry; both the consumed at home side – the retailers (grocery stores, convenience stores) as well as the away from home side (restaurants, schools, hospitals). The distributor purchases, stores, sells, and delivers those products, providing food service operators with access to items from a wide variety of manufacturers. Food service distributors procure pallets and bulk inventory quantities that are broken down to case and sometimes unit quantities for the food service operator."
Set Up Regular Meetings
To find the right distributor for you, it's important you build on your professional relationship. A distributor is handling multiple sellers at a time, and your food product might fall by the wayside just because they've got a lot on their plate.
If you have had that initial meeting with the distributor, set up another one. Try to keep in touch with them at least every few weeks so you are fresh in their minds. You should also be coordinating with your food manufacturer to make sure tasks are being handled.
Here are some important notes to bring up with a food distributor, as highlighted by YFS Magazine:

"The first step to forming a fruitful union with a food distributor is to learn which company best aligns with your brand's mission and vision. Things like freshness, quality ingredients, and the masterful production of your most prized recipes top most people's lists. Ask your potential distributor about the types of products they currently carry. Some food distributors produce and transport mixed inventory (i.e. conventionally grown and certified organic). Others are strictly organic providers."
Use a Food Broker
When working with large-scale food distributors, it may not be enough to negotiate on your own. Sometimes, getting a foot in the door just takes a bit of outside help. This is where a food broker can come in.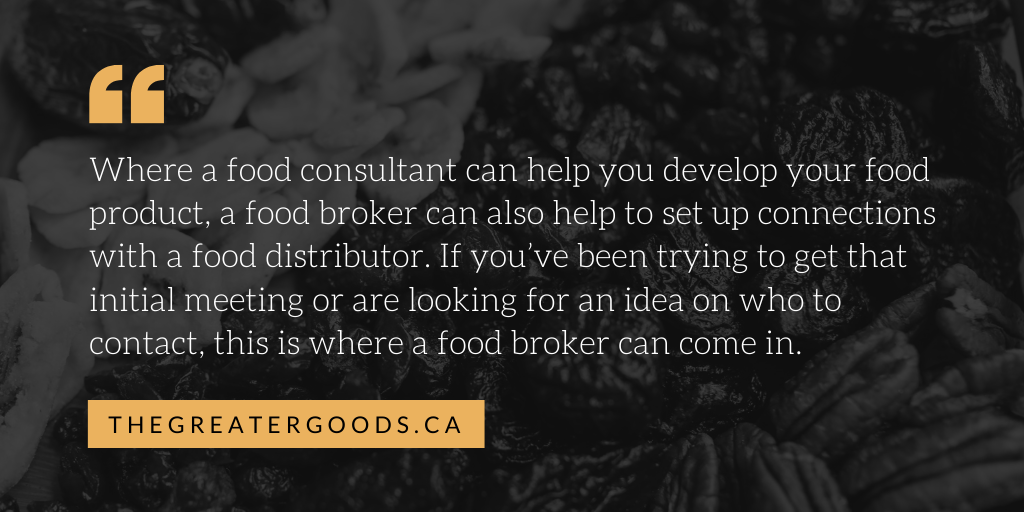 Where a food consultant can help you develop your food product, a food broker can also help to set up connections with a food distributor. If you've been trying to get that initial meeting or are looking for an idea on who to contact, this is where a food broker can come in.
Just what is the difference between a food broker and a food distributor? We cover this more extensively here:

"The differences between a food distributor and a food broker can be difficult to see at first. Both help food manufacturers get their product out to retailers and help them manage many of the tasks associated with the relationship between retailers and the manufacturers. However, the food distributor personally buys the product. They will purchase a certain amount of a given product at wholesale prices and then sell it themselves to retailers to make their profit. Since they purchase the product themselves directly, they handle more of the responsibilities involved with managing orders and inventory from the retailer."
At The Greater Goods, we specialize in organic food like nuts, nut butters, dried fruits, cocoa and chocolate. Feel free to contact us for a free consultation with our expert food industry consultants and food brokers.