Finding locally-sourced ingredients for your food product not only gives your product a fresher taste, but also helps your business support your community. Through keeping as much of your food production as local as possible, you can contribute directly to the local business economy.
But just how can you find these ingredients and who do you reach out to? If you're new to the realm of locally-sourced foods, hiring a food consultant to work with you can be a huge help and time-saver.
Connections with Local Suppliers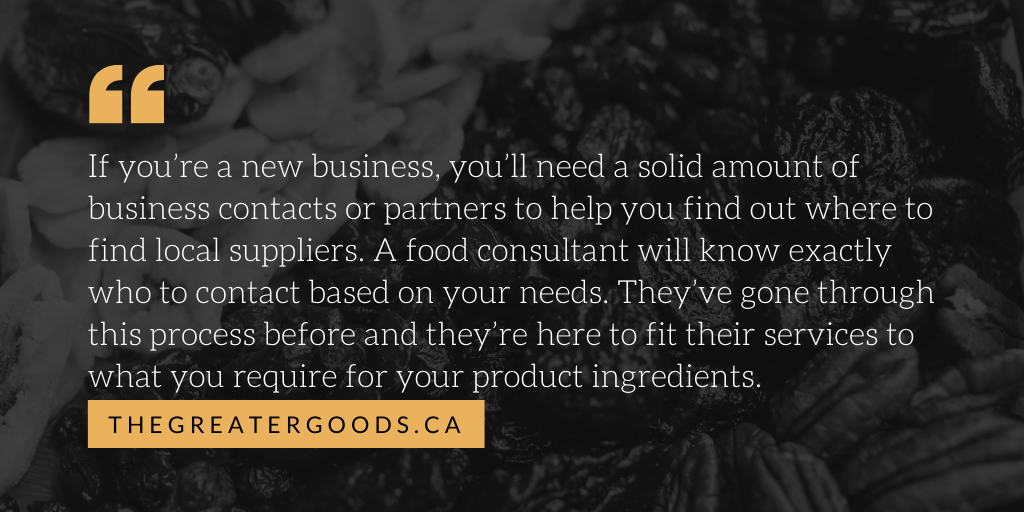 Food consultants have a huge network of suppliers that they've worked with on previous or current projects and they can help you establish those connections in your business. If you're a new business, you'll need a solid amount of business contacts or partners to help you find out where to find local suppliers.
A food consultant will know exactly who to contact based on your needs. They've gone through this process before and they're here to fit their services to what you require for your product ingredients.
Small Business Trends says that sourcing locally actually helps you strengthen your company's ties to the community:

"Buying locally can also help you build connections within your community. When you buy directly from farmers, you can work with them one-on-one and then build relationships over time. This can lead to a great working relationship that might lead to even more opportunities for your business and community in the future."
Know the Difference Between Organic and Local
Consultants are generally well-known in their area, so when they reach out to local businesses and food suppliers, they have a good understanding of which suppliers make certain foods.
It's important to understand the difference between organic and local food. They might not always be the same thing, and if you're looking to have your food certified organic as well as locally-sourced, you should indicate that to the consultant you're working with.
Sam Oches at QSR magazine explains the difference between local and organic ingredients, and that they're not always mutually exclusive:

"For organic, the USDA regulations assure that the food is produced according to specific guidelines and is better for the earth. Local ingredients are both good for the environment—the food travels a shorter distance, creating a smaller carbon footprint for the restaurant—and infuse dollars into the local economy."

Decades of Industry Knowledge
Having the right knowledge and experience is a huge part of the food industry. To get the right ingredients, it's about having connections and who you know. That's an important facet of sourcing locally, where you'll have to reach out to businesses in your area that you may have never interacted with before.
If you're working with a food consultant who's from your area, they'll know the community quite well. Consultants often have decades of experience and sometimes actually have previous job experience in the food industry. When you're working with a food consultant, they will have the right connections and industry knowledge to find the right local ingredients for your product.
Here are just some of the facets of our consultancy services that we provide:
Using our group buying capacity to leverage better prices for all our clients
Sourcing from industry leading competitive sources
Helping solve ingredient/ manufacturing challenges
Providing supply security
Identifying co-manufacturing opportunities (In and Out)
For more advice on how to source ingredients locally, like dried fruit, nuts and organic chocolate, we offer a free consultation with our expert food industry consultants and food brokers.