In most places all over the world, the cost of production of products and services remains one of the biggest expenses businesses incur every day. While this usually centers on the cost of labor and other resources like energy, today we will focus solely on the cost of acquiring the raw materials for the production of food items in a food company. As a food business consultant, we have realized that most food companies usually struggle with finding the best suppliers for organic items such as fruits, nuts, cocoa. We will also briefly consider one of the major ways of cutting back on the cost of food processing in relation to your proximity to your primary consumers.
Let's do this!
Get Closer to Your Suppliers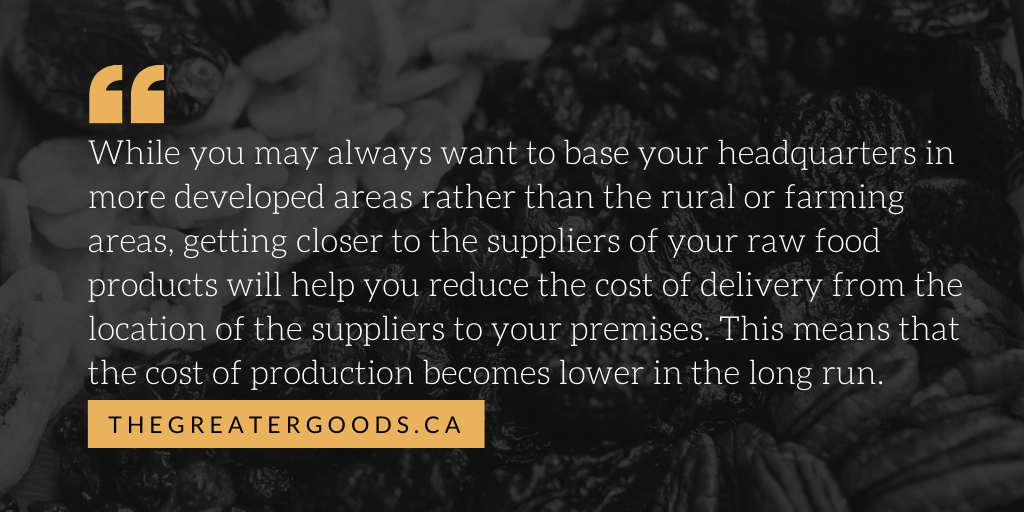 While you may always want to base your headquarters in more developed areas rather than the rural or farming areas, getting closer to the suppliers of your raw food products will help you reduce the cost of delivery from the location of the suppliers to your premises. This means that the cost of production becomes lower in the long run. If you can't find a suitable location to set up your headquarters near your suppliers, you can consider setting up small satellite premises such as collection centers where you can bulk up produce from your suppliers before finally transporting all of it at once.
Ed Burghard, a former marketing executive at Procter & Gamble notes that getting closer to your suppliers helps reduce overall expenditure, hence reduced production costs.

"Companies will be considering all aspects of production and distribution costs when selecting a place for their operation. The old adage of location, location, location applies. The closer you can be to the supply chain and your consumers, the lower your delivered costs."
Grow Some of the Raw Food Yourself
If you can, growing some of the raw food on your own is an excellent way to reduce the cost of production. This would require you to have arable land where you can grow these plants to provide you with raw material for your food industry. It is not necessary or advisable that the food processing unit and farm be on the same piece of land, but if it comes to this and the local laws apply, you can definitely run with the idea. The key advantages include being able to grow your food more organically and managing to reduce the cost of bringing them up to the factory-ready level.
Get Closer to Your Consumers
It is advisable to get closer to your primary consumers as much as possible if you are to leverage lower delivery costs as well as the likelihood of attracting customers who support the buy-local movement. This approach by customers stems majorly from health and environmental concerns where they want the experience and feel of food safety with the assurance of what they can closely relate and associate with. This favors your business as you will make more sales and won't have to deliver products over long distances as would be the case if your main consumers are far apart.
At The Greater Goods, we are always willing to help businesses in the food industry to maximize their profits while still providing great value and service to their customers. You are welcome to contact us for a free consultation.