Working with a co-packer is a great opportunity to manage long and short-term projects by boosting production efficiency, as well as by reducing your overall costs. However, there are several instances where working with a co-packer will not result in success, leaving you wondering where you went wrong. In this article, we take a look at 3 tips to maximizing success with a co-packing partner.
Be Diligent in Picking a Co-Packing Partner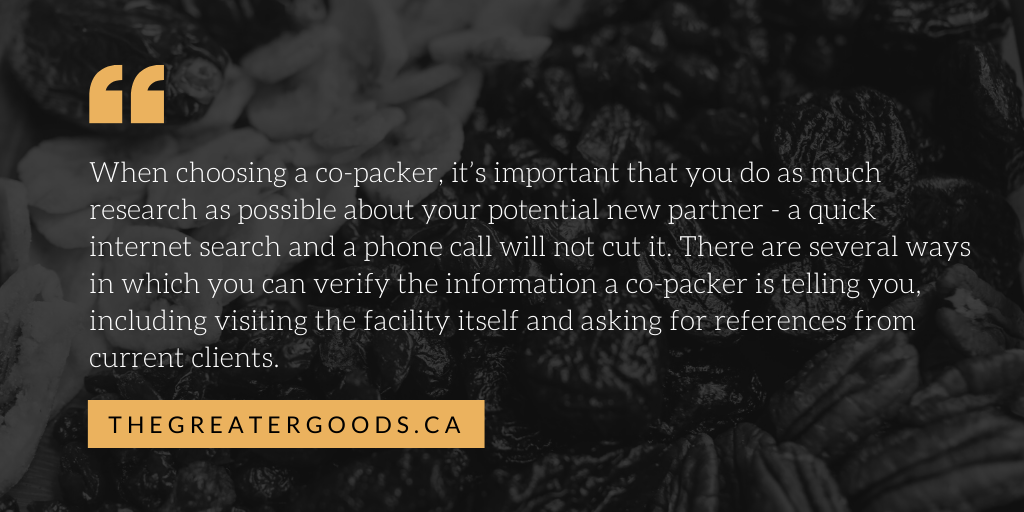 When choosing a co-packer, it's important that you do as much research as possible about your potential new partner – a quick internet search and a phone call will not cut it. There are several ways in which you can verify the information a co-packer is telling you, including visiting the facility itself and asking for references from current clients.
Food Dive tells us more about why it's important to do your due diligence when picking a co-packing partner:

"You should investigate the experience and reliability of your prospective co-packing partners. For many food companies, a co-packer will be your most important business partner. Save yourself time and headache by doing some real due diligence up front. Marketing materials and online research are good places to start, but endeavor to verify the information and draw upon the experiences of others who may have worked with a particular co-packer. You can get substantive information directly by visiting the co-packer's facilities, meeting with representatives and checking references."
Look For a One-Stop-Shop
Many co-packers will offer an array of services that you would have otherwise hired a separate company for. By hiring a co-packer that can streamline multiple processes for you, you will not only save money in the long run, but you will minimize the amount of contracts that you're locked into.
Manufacturing.net explains why you should ideally look for a co-packing partner that is a one-stop-shop:

"Look for a one-stop-shop to simplify logistics. Many co-packers can go beyond packing your products. They can transport your goods to other locations, work with other vendors to consolidate packaging efforts and streamline processes. This way you only have to deal with one partner while several others work for you behind the scene."
Know Minimums & Capabilities
When choosing a co-packer, it's important that you are working with a partner that will allow your business to grow. However, some co-packers may require a minimum volume in amounts that are simply unreasonable for your business. In this case, you can be certain that this co-packer is not for you.
Brad Denis, national sales manager–club, L&S Packing Company Inc. explains why you need to think hard before choosing a co-packer if they have high minimum runs on SpecialityFood.com:

"Determining if a co-packer wants a volume guarantee—and knowing you can meet it, or not—may be the deciding factor when choosing your co-packer. "If you only need 200 cases, and the co-packer's minimum is 1,500, you need to look elsewhere," Denis says."
Here at The Greater Goods, we offer consultation services for your business, from food production to distribution. If you're looking for advice on how to get up and running, we offer a free consultation with our expert food industry consultants and food brokers.