Outsourcing your manufacturing to another company can be a fantastic way to grow your business, and is especially valuable when the demand for your product becomes way more than you can handle. As a start-up, it can be difficult to determine when you need a co-packer, nevermind how to go about choosing the right one for you. And while there are several reasons to hire a co-packer, there are an equal amount of reasons why a co-packer may not be right for you. In this article, we take a look at 3 tips for start-ups when it comes to selecting and working with a co-packer.
Understand Why You Want to Work With a Co-Packer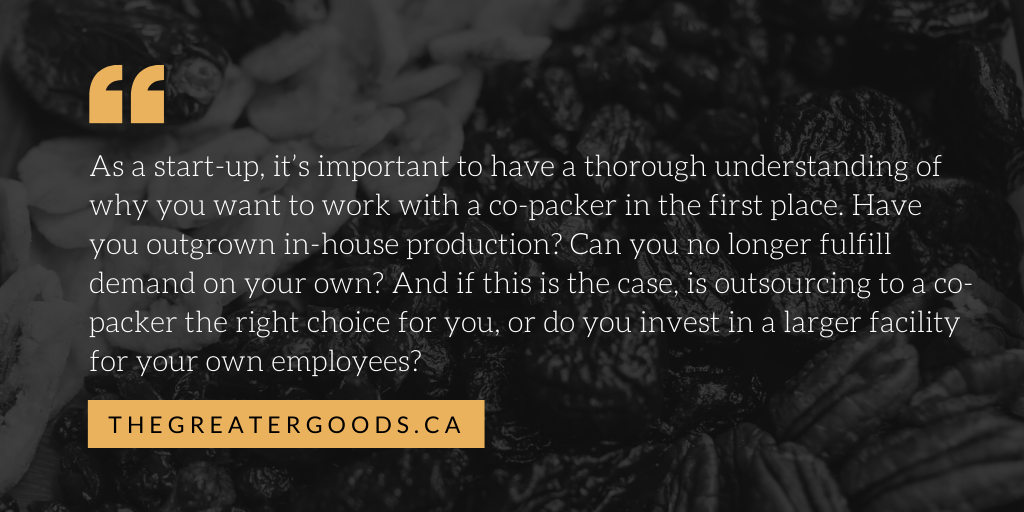 As a start-up, it's important to have a thorough understanding of why you want to work with a co-packer in the first place. Have you outgrown in-house production? Can you no longer fulfill demand on your own? And if this is the case, is outsourcing to a co-packer the right choice for you, or do you invest in a larger facility for your own employees?
Food Tech Connect tells us more on reasons why you might want to consider outsourcing your production to a co-packer:

"Investing in a larger production facility comes with a lot of costs like equipment, rent, labor and certifications. Depending on your clientele, you may need additional quality control certifications like HACCP, Kosher and USDA Organic. Big box retailers require a ton of certifications in order to carry your product. This means a lot more money if you are starting a new facility, and is the main reason many startups turn to co-packers as they scale. A co-packer also saves you time, allowing you to focus on growing your business versus being stuck in the kitchen and managing a production facility."
Provide As Many Details as Possible to Co-Packers
While some companies may be hesitant about revealing all to their co-packers before even signing a contract, it's important to remember that co-packers aren't out there to steal your ideas. The more detail you're able to provide to a potential co-packer, the better. This allows both parties to better determine whether they're the right fit for the other before making a binding commitment.
PacMoore explains why you should go into as much detail as possible with potential co-packers before committing:

"After you've gathered as much detail as possible in the product development phase, it's time to put it all together in a project memo and show it to your potential contract manufacturing partners (unless they were already involved in the product development phase, which saves you a big step). The more you share the better."
Speak to Other Entrepreneurs
Speaking to others that have previously been in your shoes is a great way to get more information on whether or not you need a co-packer, as well as having an opportunity to receive valuable industry contacts. Other entrepreneurs have already done the "dirty work" for you, and are able to pass on their own experiences.
Rocky Mountain Spice Co. tells us why other entrepreneurs can be your most valuable source of information:

"For the entrepreneur, the best source of information about co-packers, their abilities and how they work with entrepreneurs is often other entrepreneurs. Meet other entrepreneurs at state association meetings, food shows, and trade shows. More specialized co-packers will often advertise in food industry trade periodicals and directories. State directories of manufacturers will provide information about manufacturing companies. Those who list private-label products are usually copackers. University extension services and state food and drug or agricultural marketing agencies can also be of help."
Here at The Greater Goods, we offer consultation services for your business, from food production to distribution. If you're looking for advice on how to get up and running, we offer a free consultation with our expert food industry consultants and food brokers.